The Royex cartridge is a non-detonating rock breaking cartridge. It is classified as a pyrotechnic article and holds a 1.4S transport classification. In the European Union, the cartridge is classified as a P2 product, under the European directive for pyrotechnical articles, by the BAM laboratory in Berlin, Germany.
The cartridge consists of a plastic housing containing a pyrotechnic propellant mixture. The robust plastic housing is designed to protect the propellant mixture and the igniter during handling and charging. Royex cartridges are currently offered in three diameters: 22, 32 and 38 mm in lengths from 70 mm to 1100 mm.
The 22 mm cartridge has been specially designed for very precise pre-splits where fracture zones must be eliminated and wall integrity is paramount. Typical applications are dimensional stone breaking in slate, limestone, granite, marble and similar rock types. or for tunnel perimeter blasting.  The 22 mm cartridges are also ideal for concrete demolition or in areas where only small diameter drilling equipment is available.
Royex 32 mm cartridges are the product of choice for highly sensitive civil projects. Containing enough breaking power to be cost efficient, the 32 mm cartridge maintains an excellent vibration control and fly rock minimization. Typical applications include precision civil projects such as bench blasting in urban environments or indoors. Trenching, wells or tunnel development applications are also situations where the 32 mm cartridges has multiple uses.
A Royex 38 mm cartridge is ideal for tunnel development or surface developments where larger burdens and hole depths can be allowed. It is also suitable for bigger operations where small hole drilling capabilities are scares or unavailable.
AVAILABLE SIZES
The article names for the Royex cartridge product line are denoted <diameter> / <length>
in millimeter, NEQ is noted separately.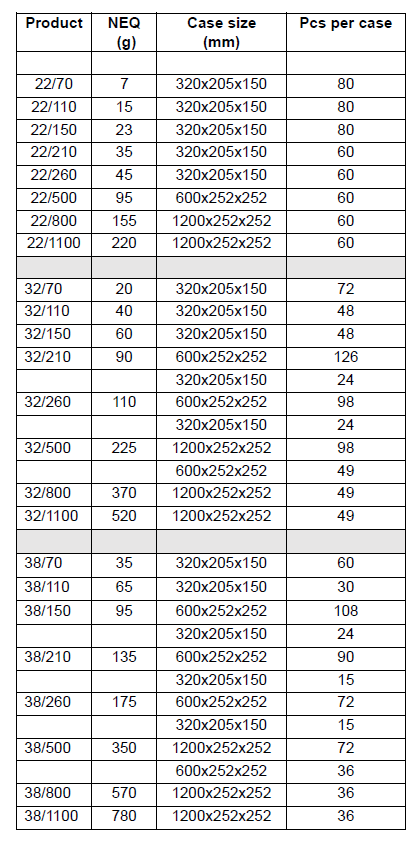 Note that all information and content on this website is subject to local law, permits and certifications. Product variations may apply. For availability and regulatory constraints, please read our website disclaimer or contact us for advice.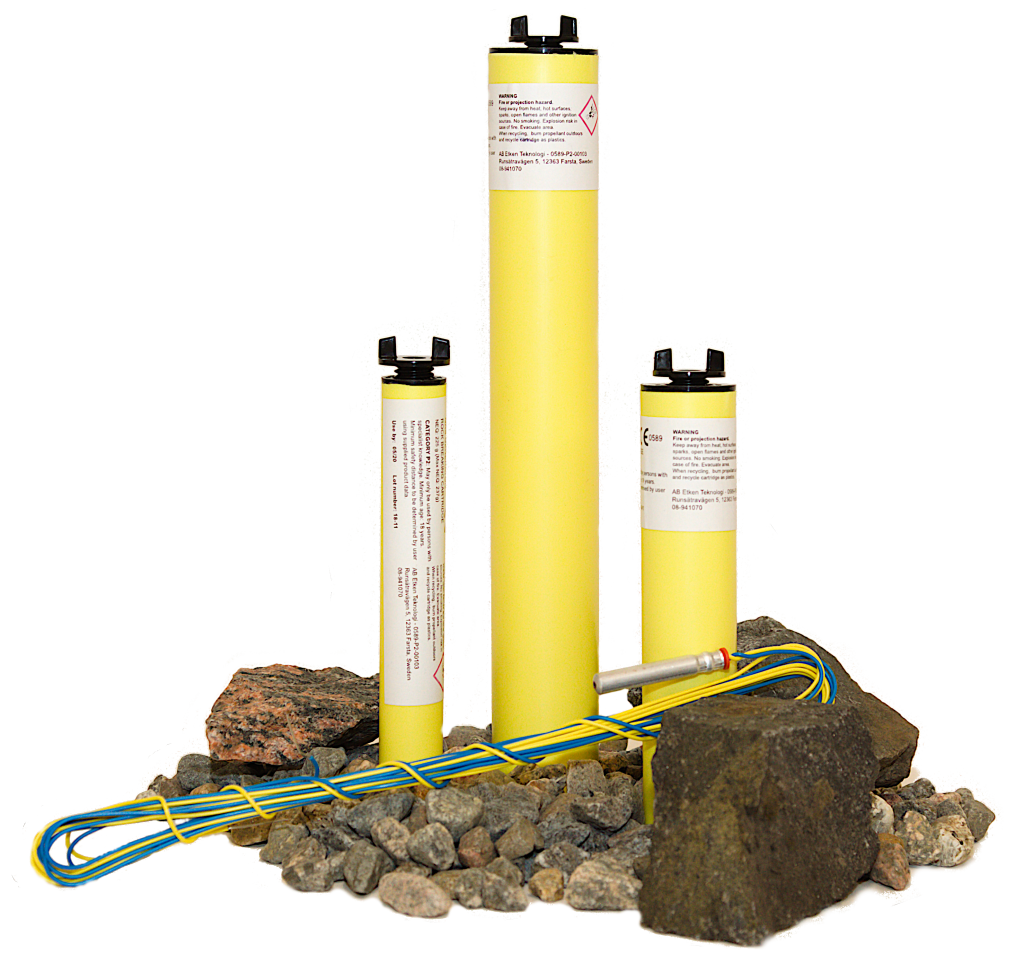 CLASSIFICATION  INFORMATION
UN Number:                                                      0432
Shipping classification:                               1.4
Compability group:                                       S
Tunnel restriction code (ADR):               E
REGIONAL AUTHORIZATIONS
CE notified body ID:                                      0589 – BAM
CE certificate ID:                                             0589-P2-0103
EU product category:                                    P2
EU product type:                                             Gas Generator
EU product sub-type:                                   Rock breaking cartridge
USA:                                                                        US DOT (EX no: EX2018112203)
Canada:                                                                 NRCAN  (ID avaliable on request)
Australia:                                                             NSW, QLD, TAS (ID avaliable on request)
CARTRIDGE ENERGIES
Energy:                                                                  911 Kcal/Kg (3,81 MJ/Kg)
Gas volume:                                                        923 Liter / Kg
IInitiation:                                                            Electrical / Shock tube
Speed of deflagration (confined):           330 – 850 m / second
Speed of deflagration (unconfined):      0 – 1 m / second
Maximum pressure (confined):                520 Mp
Maximum pressure (unconfined):          ~0 Mp
Storage:                                                                 Dry storage. Max temp 55° C. No direct sunlight.
Shelf life:                                                               18 months 
EFFICIENCIES
Efficiency (In situ):                                          1 m³ / 100 gram cartridge
Efficiency (Boulder):                                      20 m³ / 100 gram patron cartridge
Powder factor (in situ):                                0.6 (Anfo, 1,00)
Powder factor (Boulder):                           0.01 (Anfo 1,00)
Water resistant:                                              Yes
GAS GENERATED UPON INITIATION
Nitrogen:                                                                 41%
Steam / water vapour:                                     37 %
Carbon dioxide:                                                   19 %
Carbon monoxide:                                              << 0,01 %
PACKAGING INFORMATION
Cartridges are packed in UN DG approved cardboard cases in three sizes. Packaging densities and case sizes are available in the table on this page.